Graham Reid | | 1 min read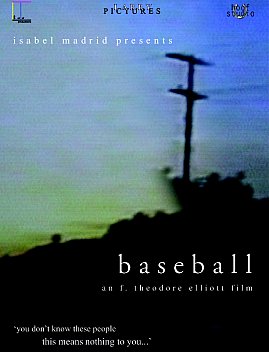 From the flickering typed-out titles, this strangely compelling 80 minute debut feature by Auckland filmmaker Elliott warns you of its lo-fi and homemade quality, and that it is a labour of love which is populated by friends.
Because it is episodic -- some characters speak direct to camera with stories or abut ideas which seem disjointed and there is voice-overs which sound like short stories -- you look past whatever technical shortcomings there are and hook in to the teasingly incomplete incidents or narratives, and get enticed by seeing sometimes very mundane images on the screen held up for consideration.
Empty streets, rows of archetypal suburban houses, telephone poles and bland fences, houses full of junk which seem abandoned . . .
Some of these are American too, drawn from television, old films and books.
There is also a soundtrack which includes songs from the Fifties (always a pleasure to hear that Pacific sound of Sleepwalk) and odd sources. Many of the songs also suggest better worlds elsewhere than the one on the screen.
There's also a lengthy passage in French at the midpoint, found images from television, cuts between sections in colour and black'n'white . . . The result is like a strange collage of images around what seems to be a group of loosely connected – and slightly disconnected – young people.
If there are discernible themes here they are those which often preoccupy people in their late teens or 20s: boredom, conspiracies, private melodramas, dreams, death, mysteries and loneliness.
The actors – which includes a number of indie musicians Lloyd Thomason (formerly of Troubled Frank, now solo as Lloyd Frank), Elliot Lawless (Greenfog, Her Desher, Son of Sons) and Callum Lee (Rewind Fields) – are free of guile and "act" with a naturalness which will make this accessible to the target audience.
The attention on the mundane and ordinary – remember the plastic bag in American Beauty? – serves to elevate them and take them out of their wider context.
In many ways not a lot happens – sometimes you are watching people watching something or telling personal confessions or reminiscences -- but the sense of emotional dislocation comes through clearly by the end.
From the ordinary to the surreal, Baseball is an ambitious first feature which deliberately steps away from the mainstream and creates a post-modern world of its own where television and real life, fact and fiction, America and your own hometown, past and present, truth and lies all have similar weight.
Baseball is having screenings around the country in June at which some of the musician-actors will perform. For more details see their Facebook page here.