Graham Reid | | 1 min read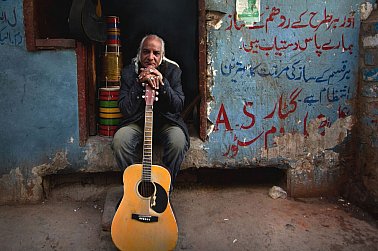 Every now and again a New Zealand musician will complain how hard it is to make music here.
Well, sometimes it is. Although the problem today is it's never been easier to make it but getting it to people or selling it has rarely been harder.
However these things are relative, as this doco about a group of musicians in Pakistan illustrates.
When their version of Dave Brubeck's Take Five became a minor sensation and they were invited to New York to perform at Carnegie Hall two years ago it seemed like they were an overnight success.
But for two generations some of these musicians were bedeviled by a military coup and the subsequent shutdowns and impositions of sharia law (which closed down cinemas so there was no work for the orchestral players), the death of some members and then more recently younger people embracing Western rock music.
Only after the restrictions were loosened did they manage to come together and – while not denying their heritage – embrace the idea of jazz because, like their own classical music, it was improvised.
The orchestra's leader had also seen Brubeck when he – like Duke Ellington and Dizzy Gillespie – had come to Pakistan in the late Fifties as ambassadors for American culture during the Cold War.
This film – subtitled mostly – is more than just the story of musicians from Pakistan going to New York but about a musical culture besieged on all fronts which, through the dedication and spirit of the musicians, was not allowed to wither.
In its own way this 80 minute film is akin to the Buena Vista Social Club doco, although for many the musicians won't have the approachable charm of the Cubans.
There is humor throughout though, and some pointed comments: "Back home the clerics don't let us breathe in peace," one says after they've sung along to John Denver's Country Road with a barely dressed male busker in Times Square. "Here we are enjoying ourselves".
But their concerns are human ("Don't freak out when you meet him," one says to another the way to their first meeting with Wynton Marsalis) and their dedication to bridging the East-West divide is courageous, sometimes troublesome for them and the results often surprising.
Song of Lahore plays in the 11th International Documentary Film Festival
Auckland, Q Theatre Friday May 27, 8.30pm and Sunday May 27, 6.30pm