Graham Reid | | 1 min read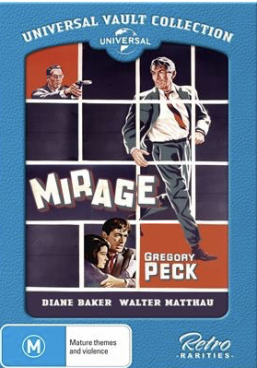 In his subject-shifting epic Brownsville Girl of 1986, Bob Dylan sang, "
I'm standin' in line in the rain to see a movie starring Gregory Peck, Yeah, but you know it's not the one that I had in mind.
He's got a new one out now, I don't even know what it's about. But I'll see him in anything so I'll stand in line".
The one he had mind, mentioned at the start of the song, was the classic Western The Gunfighter from '50.
Like Dylan, many movie aficionados would stand in line to see Peck.
His filmography included such cornerstones as Roman Holiday with Audrey Hepburn (still fun and frivolous), To Kill A Mockingbird, The Guns of Navarone, Hitchcock's spooky Spellbound, The Bravados, On the Beach and many more.
When Peck died in 2003 he was widely mourned and many of those films mentioned were referenced in his obituaries.
If Mirage from '65 wasn't it's perhaps because in this Hitchcock-like thriller Peck sometimes seems as confused as his character – and certainly the viewer – as he battles with what is real and what he has imagened.
Or forgotten.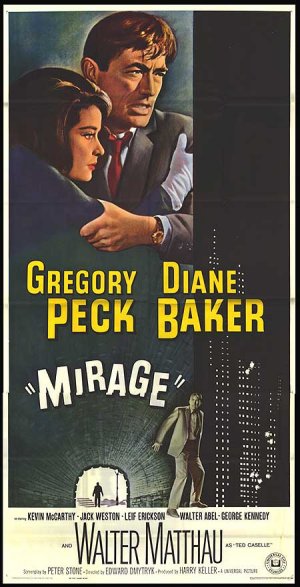 It has sometimes been referred to in the same breath as the excellent Charade (from '63, with Cary Grant and Hepburn) but – despite the same screenwriter Peter Stone being on hand and two actors (Walter Matthau and George Kennedy) appearing in both, Mirage it isn't in the same league.
Peck plays an accountant for a Big Corporation who can't remember who he is, how he got the job and even who the woman (Diana Baker) is, although she clearly knows something about him.
Although the cinematography and storyline involving stairs to nowhere, amnesia, emotional trauma and a goofing Matthau as the hapless private detective are all fine, the narrative falters because it tries to say too much about corporate corruption while also keeping the viewer and Peck's character in a state of confusion.
By the end of the 100 minutes you'll be no wiser as to whether this was -- as the original posters suggested -- shot as a film-noir by director Dmytryk (who knows the genre, he did Crossfire in '47 and the nasty Sniper in '52), a take on the Charade shell-game or just a psychological thriller which tried to say too much about our perceptions of reality and memory.
It is watchable of course – it has Peck and we'd stand in line – but even the attraction of soundtrack music by Quincy Jones (who did so much better with In the Heat of the Night and In Cold Blood two years later) can't really rescue it.