Graham Reid | | 2 min read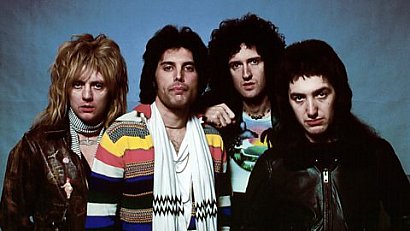 There are artists you "get" (round here everyone from the Beatles and Supremes to Yoko Ono, Ornette Coleman and Sonic Youth). And there are those you just don't . . .
Elsewhere freely concedes it did not "get" the mega-mania attached to Queen.
Some great songs and quite a few very good one, hilarious video clips, stunning guitar from Brian May and of course the wonderfully outré frontman Freddie Mercury.
Got all that.
But . . .
Their implosion of hard rock, mock-opera and retro rock'n'roll?
Not so much.
Perhaps what counted against them round here was that every year after Mercury's death in '91 the same songs would be recycled into Greatest Hits collections (in various iterations and volumes) and the video collections seemed to recycle the same.
Queen, who started life as a thrilling challenge had become a marketing exercise (yes, much like the endless Beatles re-presentations).
But . . .
This fascinating doco which, after the grandeur of a stadium show, cuts right back to UK VJ "Whispering" Bob Harris and Queen drummer Roger Taylor in a '77 smoke-heavy cigarettes and intimate conversation.
And then come the others talking about what they were going to be before the band gelled (a dentist, electronics, graphics illustrator, an astronomer/physicist, all of which tells you of the combined intelligence within the quartet).
At this point the Queen story is part That'll Be The Day/part Beatles-Rutles and a massive dollop of confidence as Mercury "would wander around like he was Robert Plant" even before he became their singer. But their early failures helped define them, and encourage them to "take the plunge".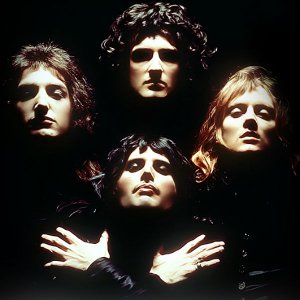 In the early footage Mercury is enjoyably coy about the many layers behind the band name ("it was very grand, very pompous, it lent itself to a lot of things like theatre").
From a band which seemed like a camp Thin Lizzy/Rocky Horror Show parody in the early Seventies (terrific images of these years) and their own version of Beatlemania in Japan (who also "got" Cheap Trick when homeland audiences didn't) they won over their audience from the ground up.
It's wonderful to see how this emerging band coped with powercuts and stage problems . . . every young band should look at this on-the-fly footage.
And then the mega-fame arrived, but not without its issues as this doco makes clear. But not a lot we haven't heard and observed before.
This 90 minute doco catalogues Queen's small rise, inevitable descent, problems, rise again to global domination, slow demise and post-Freddie resurrection in a way that . . .
Now, 25 years after Freddie's death Elsewhere admits, we "get" it.
Not the music as much as the story.
Which is unique to them . . . but also familiar at the same time.
But, we are going to say it again, there has never been any love around Elsewhere for a man who had Aids and hid that dangerous fact from lovers and friends.
Queen; Rags to Rhapsody launches the Prime Rock television season Thursday, November 24, 8.30pm