Graham Reid | | 1 min read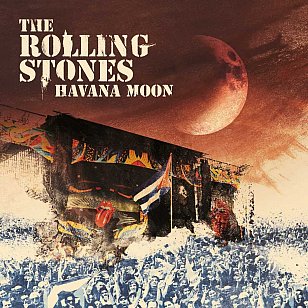 Much as we who have grown up and old with the Rolling Stones might laugh at the sight of Mick Jagger dancing like some skinny mannequin being electrocuted, others see the Stones spectacle differently.
In places like Cuba where they played in March 2016, the Stones were as much a symbol as a show.
It was the rightwing writer PJ O'Rourke who said something along the lines that the Berlin Wall didn't fall because people wanted freedom, it fell because they wanted blue jeans and rock'n'roll.
That might seem glib, but notions of freedom and democracy are slippery and hard to define. However everyone understands jeans and rock'n'roll . . . and if they don't have them they probably want them.
Those things are symbols of freedom and democracy in many parts of the world where people have been denied them.
When the camera pans across the huge crowd at Ciudad Deportiva Stadium in Havana you can see on people's faces the excitement of seeing an actual international rock'n'roll band, a legendary one at that, and what that represents to them.
This was an historic concert which came days after Barack Obama's visit – the first by an American president after decades of the trade and cultural embargoes.
The Stones represented another break-through and thawing of relations between Cuba and the West, and now people were free to hear rock'n'roll performed live by a band whose name every knew but whose music they might have only heard intermittently.
As the liner notes to this DVD film and double CD set note, "Ahead of the concert, younger Cubans were mostly unable to name a Stones' song, but many seemed thrilled just to soak up the atmosphere".
It was clearly a joyous occasion but also a very different kind of ambience from what Stones fans elsewhere would be used to.
It was a free concert (it seems at least 200,000 turned up, sme stretch the figure to around one million) but there was no merchandising, no drinks – alcoholic or otherwise – on sale, it was largely drug-free and there were very few toilets.
Yet none of that appeared to matter as the crowd seemed euphoric, especially when Jagger addressed them in Spanish at one point saying, "finally the times are changing. That's true, no?"
That is greeted with a roar of agreement.
It was largely a familiar Stones show when it came to the set list, all the hits, a local choir ushering inYou Can't Always Get What You Want, Out of Control from the late NIneties allowing Jagger to do his electroshock mannequin routine . . .
So in one sense it was a standard Stones stadium show, except of course it wasn't.
It was historic . . . and somewhere in the mix of music and spectacle it was a symbol of something much larger and harder to articulate.