Graham Reid | | 4 min read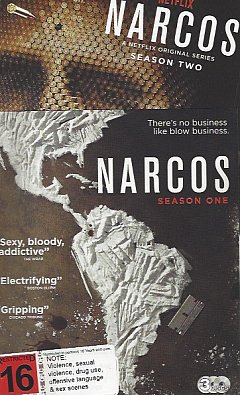 Just how good is Narcos, this television series about the life and times and murderous regime of the Columbian drug lord Pablo Escobar?
Consider this: Recently we were in Stockholm in an air b'n'b and the absent owner had Narcos on his Netflix.
One morning I turned on episode one and for the following two weeks would start the day with an episode or two before hitting the streets.
Okay, any number of mini-series can grab you (recently we found Vikings impossible to walk away from and would watch two and three episodes in a sitting) but here's the thing about Narcos in Stockholm.
At a guess 75% of the dialogue was in Spanish but the subtitles were, of course, in Swedish. And although I understand neither language Narcos had me hooked.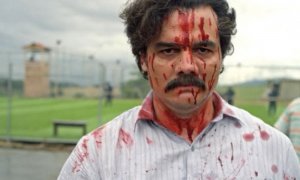 The filming is exceptional, the menace quite palpable, the facial expressions (and sometimes lack of them) allowed me to follow the personal dynamics, Wagner Moura who plays Escobar is utterly persuasive and the cast of surrounding characters as compelling as those in The Sopranos.
It is about drugs, money, politics, killing, locations in the jungle, cities and expensive well-guarded fortress homes dripping in luxury and glitz . . .
Any series which can hook you in when you barely understand a word has a lot going for it.
The third season of this utterly addictive (hmmm) series has just started on Netflix but if -- like me -- you don't have/do that, then let's bring you up to speed. Or more correctly, coke.
This is about drugs, the market economy and so much more.
And for me ....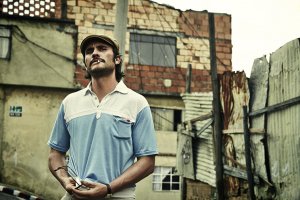 With the BluRay release of the first two series – it looks even better than it did in Stockholm – I can get all the nuances of the plot which were previously arcane to me.

It is a play-and-pause to take in the locations: beautiful landscapes, gritty backstreets, extravagant opulence and, yes, sometimes even the graphic violence.
William Burroughs always argued there was no point in cutting off the head of snake in the drug trade – the top people in the cartels – because there will always be those lower down who will want to replace them.
It's business, capitalism, greed and ambition all bound together by a culture of violence and intimidation. But it's also about supply and demand . . . and who controls the flow each way.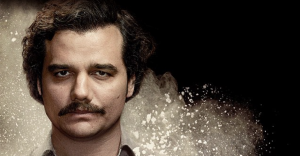 Some of that thinking was applied to Escobar also as government officials felt it better to have him there and control him than try to take him out. Bad politics.
As we have seen all too often – and are seeing now in the United States – some people are as uncontrollable as they ambitious and ruthless.
Pablo Escobar was one of those. The more he had the more he wanted, and with so many Americans shoving coke up their noses during the period this series covers – the decadent Eighties mostly – the demand was high.
Escobar and his cartels were making more money than they could spend or invest.
But Escobar wasn't some bat-shit crazy figure like Al Pacino in Scarface. He was more like the cool-headed Pacino in The Godfather. He ran the numbers but read the signs. He even stood for pubic office and won, so did good work in the poorer districts where he was very popular because he provided football fields and jobs, and protected his loyal people.
And there were plenty of them working away making cocaine in quantities which seem unimaginable.
The numbers are astonishing: He was one of the richest men in the world – and by far the richest criminal – at the peak in the early Nineties with a fortune estimated in the tens of billions.
He started small and the Narcos series begins where he did, as a petty criminal (car thief, selling contraband) and graduated – as Burroughs says people do in the trade – to selling coke then opening up the links to the US via Venezuala.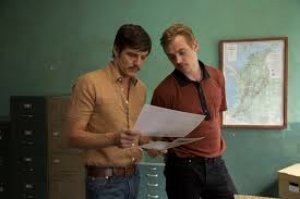 Within a decade from the mid Seventies he had built a network of manufacture and distribution which was seeing something like 9o tons of a the white powder – in al kinds of increasingly elaborate guises – being exported to the US, mostly through Florida.
Narcos keeps two narratives running parallel: that of Escobar and his life, and that of two US narcotics officers who work in and out Columbia.
We see two sides of the story as well as the politics of the Reagan era (the war on drugs rhetoric) and of Columbia where Escobar's Medellin Cartel thought nothing of assassinating cops, journalists, judges, politicians and civic officials if it seemed necessary.
Alongside the lightly fictionalised account are intercut news footage from the era and it is remarkable to see actual film the left-wing guerrillas lay siege to the Columbian Supreme Court in '85 – supported by Escobar – which was ostensibly in retaliation for the government changing extradition legislation. But it also allowed them to take over the building and destroy documents which incriminated cartel members (Escobar among them) and seen them shipped off to the US for trial.
It was a war.
It was a war on the war on drugs.
If you haven't seen Narcos, the first two series are available now and they are utterly gripping.
No matter what language you see them in.