Graham Reid | | 1 min read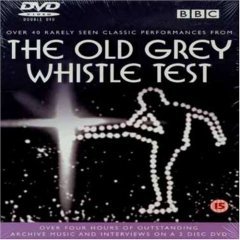 If you want to capture the essence of the 70s in a word it's "hair". At the start of the decade there were Afros and cascades of curls halfway down backs (that's the men) and the long straight stuff with fringes (the women -- and Noddy Holder from Slade).
By mid-decade there were dreadlocks, moustaches and big sideburns sprouting everywhere. Then suddenly in came punk and out came the scissors.

Many say the 60s were the greatest decade for music -- but really it just laid the groundwork for the flourishing of styles in the 70s. Looking back from this time when music exists in separate fiefdoms, it seems that during the 70s everything seemed to co-exist.
That's a view reinforced by the bizarre and fascinating BBC double DVD The Old Grey Whistle Test which collects 45 live performances down that hirsute decade from the British television show.

As the years roll by so do a skinny but tame Alice Cooper, the hilarity of the world's only Dutch prog-rock yodellers (Focus), the very young Wailers, the deliciously dissolute crossdress rock of the New York Dolls and a seriously disturbing Captain Beefheart.

There is southern soul funk (Little Feat) rubbing shoulders with retro-rock (John Lennon sending Stand By Me from New York) and things which should never have been allowed (the Edgar Winter Group who go prog-bonkers at great length).
Some big, or forgotten, names are represented here: Irish blues-rock guitarist Rory Gallagher, John Martyn, Tim Buckley, Lynyrd Skynyrd, Teardrop Explodes, and Kris Kristofferson with Rita Coolidge

As the clips roll on the hair gets shorter and then we are into New York new wave, mock opera, Iggy Pop, Tom Petty, Springsteen, Tubeway Army, the Specials, Damned, U2, REM and more as it stumbles into the early 80s.

With interviews (Elton John and Bernie Taupin, Mick Jagger, Robert Plant, John Lennon, Keith Richards) and reminiscences by some of the programmes hosts (yes, including "Whispering" Bob Harris who really didn't get the New York Dolls) this collection offers a better insight into that diverse and sometimes dodgy decade than any other one-stop shop.
And this is such an honest overview of the period that it doesn't shy away from the fact that Val Doonican and Charlie McCoy were there too.
Any DVD which also offers space to Curtis Mayfield, Randy Newman, Tom Waits, Bonnie Raitt, Robert Wyatt, the Ramones and Tim Buckley -- among others -- is rare.
But the Edgar Winter Group? What was that about?