Graham Reid | | 1 min read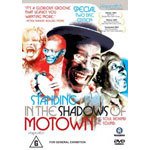 When music magazines make up lists of great players - best drummer, top guitarist or whatever - one name invariably appears in the best bassist countdown: James Jamerson. At which point most people might fairly ask, "James who?"
Which is exactly the problem this exciting, moving, good-natured soul-funk documentary seeks to redress.
The late Jamerson - difficult, moody and volatile, but a genius on his instrument - was one of the wonderful but often forgotten musicians who laid down the sound on dozens of Motown hits, and hundreds of other songs, in a tiny studio in Detroit during the 60s.

Known as the Funk Brothers, this small, revolving roster of former jazz and club musicians was there creating the memorable rhythms behind Smokey Robinson, Marvin Gaye, the Supremes, Four Tops, Stevie Wonder and many more. Theirs was the aural fingerprint of the Motown sound which resonates to this day.

The Funk Brothers played on more hits than the Beatles and the Stones combined, and if their reminiscences in this joyous doco are to be believed, they did it with great humour, not as much money as you might expect for the long hours involved, and in a sweatbox studio so small six of them could barely fit. One of the most moving sequences is when some go back to that room and reminisce, not the least about turning up one day and finding a sign on the door which said the record company had shifted to Los Angeles and their services would no longer be required.

Label boss Berry Gordy and the Motown artists of the time don't appear, of course. Their presence would be an intrusion. This is the Funk Brothers' opportunity to be stars, and shine.
Through archival footage, re-enactments, still photos and casual conversation, the story of these marvellous old men is told, then given added lustre when they get behind their instruments again in concert with Joan Osborne, Chaka Khan, Ben Harper and others to recreate some of those classic songs. The spirit of Motown is conjured up for their own delight as much as for that of the cinema audience.
These surviving musicians and the enduring music they made do the talking. Everyone else is simply along for the memories, the soulful sounds and a contagiously uplifting ride which also doesn't shy from some hard truths about the music business, and the characters -- like Jamerson -- who make it what it is.