Graham Reid | | 1 min read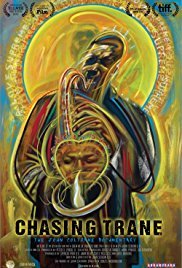 If 1967 was a great year in rock music – debut albums by Jimi Hendrix, the Doors, Velvet Underground and others, and of course Sgt Pepper's – it was a bad year for jazz.
In July that year the great John Coltrane died of liver cancer at age 40.
A saxophone genius alongside Lester Young, Charlie Parker, Sonny Rollins and others in the jazz pantheon, Coltrane came to wide attention when he joined Miles Davis' band in '55 and consolidated his position by then playing with Thelonious Monk.
And then Coltrane became the great improviser and composer who was also on a personal spiritual quest.
This very straight-ahead doco by the maker of John Lennon Vs the US doesn't resile from mentioning his drug and alcohol problems in his early years, but also brings together a roll call of fellow musicians who played with him (Benny Golson and Sonny Rollins especially moving in their testimonials), great admirers (President Bill Clinton, Doors' drummer John Densmore, academic Dr Cornel West, Carlos Santana, Kamasi Washington among them) and of course the usual articulate speakers (Wynton Marsalis).
These voices attest to his genius but rounding out the picture are the interviews with his family, Coltrane's words spoken by Denzel Washington, photographs and footage, and of course Coltrane's extraordinary music.
When it settles into a chronological account of his life it does become Coltrane 101 and so longtime fans will find little new or unknown here (aside from the family reminiscences and images from his pre-fame days in the US Navy – but the bonus features include artist Rudy Gutierrez painting 'Trane to his music, Your Brain on 'Trane in which jazz as instant composition is analysed by a neurologist, how this music has healed wounded souls and more.
There is also a four minute conversation with producer Rudy Van Gelder about his famous studio where Coltrane recorded some of his finest work.
A decent overview and an excellent beginners guide to John Coltrane, the man and his music.