Graham Reid | | <1 min read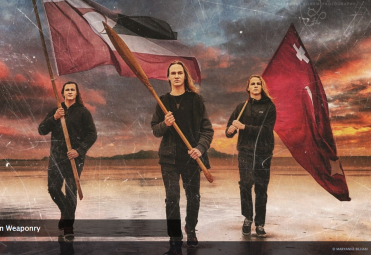 You have to love this short (18 minute) film which starts with a warning: "The following film contains heavy metal. Viewer discretion is advised".
It shines a spotlight on the formidable New Zealand metal band Alien Weaponry who are, as of this writing, taking their astonishing te reo hard rock to the world . . . and frankly we think they could be the Next Big Thing out of this country.
That is certainly the feeling of the internationaly acclaimed photographers Robert Knight and Maryanne Bilham (the latter took the inside cover photo of their thrilling debut album).
It is a delightfully candid, guile-free portrait of this young band and where they come from (rural Kiwiland with dairy farms and rolling green pastures) as well as weaving through Maori culture which informs them. It is cultural, political, at times angry and yet -- as were Shihad -- cathartic.
It will be as informative for the Aotearoa New Zealand audience as it is exotically different to those overseas (explanation of the haka and so on), and of course their music and videos are terrific and professional.
It's a must-see . . . and the people behind it have thoughtfully made it available with subtitles in four other languages.
World domination awaits Alien Weaponry and this is another arrow in their quiver.