Graham Reid | | 3 min read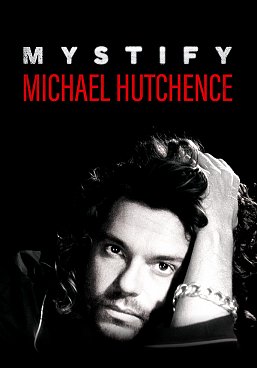 Here's the briefest of encounters with the Australian superstar. It was at a fund-raising concert in Sydney in '92 and there were big acts aplenty on the bill.
Backstage I chatted with Neil Finn (then of Crowded House) and the charming Johnny Diesel who should have been massive but instead had an excellent career.
The catering tent was open to all, kids and partners ambled about and chatted easily with strangers, the media and each other and the whole backstage area had a kind of Woodstock-with-catering vibe.
Then something happened.
A train of very large and long vehicles with blacked-out windows rolled in, ushered through by security guys with headsets and scowling demeanours.
INXS had arrived and if they been looking further than their sunglasses they would have seen the gathered talent laughing at their excess and trappings of stardom at this event.
Hutchence got out and, shielded by minders, made his way to the stage.
The people I was with were agog at this inappropriate sight of conspicuous self-aggrandising.
But then INXS hit the stage to a wave of love and applause and delivered a fine set, so perhaps all was forgiven.
But for many, that moment was not forgotten.
But Michael Hutchence was a star, in his looks, swagger, vulnerability and stage presence.
Buckets of charisma," as INXS co-writer Andrew Farriss says in happier days early on in the bio-pix of Hutchence who killed himself, accidentally or otherwise, in a Sydney hotel room in November '97.
Hutchence was intelligent, educated and self-educated, artistic . . .
The man seemed born for performance . . . and he was loved for it.
But, as we came to learn he was – like so many – a troubled soul. "Not happy background," says the Farriss brother's father . . . and that story is revealed much later in this film. It is awful and private guilt arrived.
But his public life became something else: As Ananda Brixton-Smith, his former partner from the days before fame anointed him says, "he was working very practically to become famous".
Through insightful interviews with his sister Tina and partners like Michele Bennett ('82-'87), friends like Jenny Morris and James Freud (the Models), producers Nick Launey and Chris Thomas, and various housemates a picture is built up of a shy, serious but self-assured young man who had an aura about him.
And he could project that to audiences internationally, sometimes to over 100,000 in a field in California or supporting Queen at Wembley Stadium.
But he always wanted "family" (that being flatmates in Sydney and INXS) around him. Not needy, a loner or a lonely man, just gregarious and much loved by all those around him.
Bono says Hutchence never really understood what a great voice he had, Chris Bailey of the Saints talks of how they would spend hours talking about literature and art and what a generosity of spirit he had.
Throughout this doco Hutchence speaks eloquently and with humour about his life and persona. For him rock was liberation.
So how and when did it all go so wrong?
The break-up with Bennett at his instigation was perhaps the first cut, the self-doubt and sensitivity not far below the surface rose up, massive success and adoration meant he created the persona of the assured rock star to cope.
There were reservations about what "success" meant (the end, the peak which cannot be topped or many never achieved again?), constant interviews and no personal life . . .
"Touring, it's two hours a day and they're the two hours I really enjoy . . . but you've got 22 other hours a day and all kinds of weird things happen," he says when they were at a peak in the late Eighties.
"I'm not miserable about it, but . . ."
He starts to look more tired, emotionally and physically.
He tried to walk away, into a solo album (the arty Max Q experiment), the desire to be respected as an artist and not just a huge pop idol . . .
Then there is Kylie, and quite a lovely relationship about which she speaks well, but then there was scheduling the relationship around their separate careers, love letters as faxes delivered to hotel rooms.
The relationship fell apart because he had. Pressure, drugs, fame, distance, ructions within INXS . . . ?
Then model Helena Christensen, being knocked out by a taxi driver which affected his sense of smell and taste and perhaps changed his personality . . .
And then onward and downward. And alcohol, drugs, anger, Paula Yates, the custody battle between Yates and Bob Geldof played out in the media with Hutchence part of the three-ring circus, more drugs . . .
As we know those final weeks, days and then hours were mired in controversy and hurt.
And the final minutes in a hotel room in Sydney when he was just 37.
Mystify: Michael Hutchence is an insightful, honest and ultimately sad story of promise fulfilled then eroded.
Mystify: Michael Hutchence is screening in selected New Zealand cinemas as below. The Event locations are screening it as a one weekend only over September 13 – 16. Other cinemas are playing a full season.