Graham Reid | | 1 min read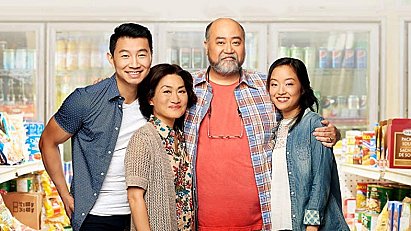 Round Elsewhere's way when we aren't diverted by drug cartels (Narcos, the incredibly tense Ozark) or being taken on some bleak journey with a detective posted to some snow-blown remoteness to investigate a murder in Iceland/Norway/Canada/Alaska etc we like to take comfort in a gentle comedy series . . . like Kim's Convenience.
This series – set in and around a Korean family's convenience store in Toronto -- is based on a stage play by Ins Choi who was born in South Korea and raised in Canada.
So it sometimes has an outsider's perspective of Canadian mores or – as in the opening of the first episode where the bear-like Mr Kim serves a transvestite and asks an obvious question without guile – about different lifestyles, cultures and practices.
As the series evolves we slowly learn why Jung, the son of the Kims ( Mrs Kim a smart, patent but sometimes frustrated woman), is estranged from his father and watch how their stubbornness is gradually eroded.
There are any number of excellent bit-part characters passing through the store among them the dapper and hilarious Mr Mehta who owns an Indian restaurant, the hapless and cuckolded Frank with his pointless stories, the somewhat strange Mr Chin . . .
Then there is photographer daughter Janet and her flatmates, Pastor Nina and members of the Korean congregation at the church, Jung's workmates at the car rental place . . . and others.
Kim's Convenience is lightweight but makes its points, and the characters are well-rounded, the plot-lines tight and smart, and the mangled English by the senior Kims a delight in itself.
If you find yourself mentioning a "sneak attack" or a "blabber talker" to a friend you've probably gone down the conveniences store rabbit hole.
Unless they answer, "What you talking?"
Then you'll know it's got them too.
A welcome break from drug deaths and murder in the frozen wastes.
.
.