Graham Reid | | 2 min read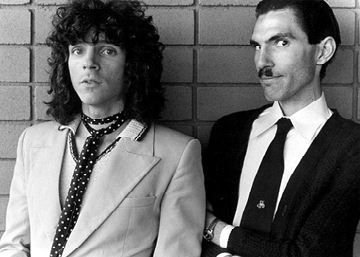 In The Sparks Brothers – a documentary about Sparks, the idiosyncratic band of brothers Russ and Ron Mael – British television personality Jonathan Ross says they had "a punk sensibility, a desire to shake things up and make you think".
The irony is – despite Steve Jones saying in pre-punk days he and fellow Sex Pistol Paul Cook loved Sparks – gobby punk skewered Sparks' glam-pop career in Britain.
As the chronological, detailed and overlong at 135 minutes documentary by British director Edgar Wright (Shaun of the Dead, Hot Fuzz) illustrates, the Maels' career was a bumpy ride from the margins to the mainstream back again when punk washed them aside.
Then they returned with glistening disco-pop, Martyn Ware of Human League and Heaven 17 describing their Giorgio Moroder-produced 79 hit The Number One Song in Heaven as "the absolute apogee of synthesizer pop".
With singer Russ' pop star looks and keyboard player Ron's eerily detached stage presence and Hitler/Chaplin moustache, Sparks presented an anomalous image parallel to their meticulously crafted music.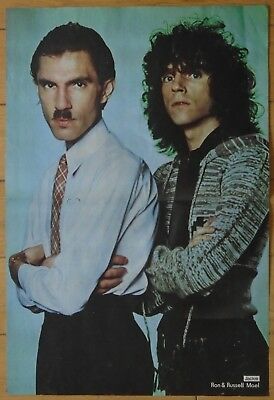 They offered Abba's Euro-pop filtered through T. Rex's glam stomp, dance-fed prog-rock with acerbic wit, kitsch with a knowing wink (When Do I Get to Sing 'My Way') and could be elegantly satirical (2002's orchestrated Lil' Beethoven includes the song What Are All These Bands So Angry About?) or shameless bubble-gum fun for classical minimalists.
The documentary charts their career from suburban Los Angeles where they grew up with 50s rock'n'roll, Hollywood movies, the Beatles and French New Wave cinema.
When they went to Britain (Queen opening for them at the Marquee), their 74 album Kimono My House sprung the glam-pomp hit This Town Ain't Big Enough For Both Of Us and screaming teens arrived.
But Sparks' caustic lyrics also appealed to musicians and an older demographic.
In The Sparks Brothers – the story told through home movies, live and studio footage, the witty and unpretentious Maels straight to camera, plus animated passages and stock footage – a legion of pop culture icons acknowledge a band whose influence outstripped its album sales: Beck, producers Tony Visconti (Sparks, T. Rex, Bowie) and Jack Antonoff (Taylor Swift, Lorde), graphic novelist Neil Gaiman, Andy Bell (Erasure) Duran Duran's John Taylor and Nick Rhodes, Go-Go Jane Wiedlin . . .
And in their 70s they haven't slowed down.
They wrote the screenplay and music for the Leos Carax-directed Annette – with Adam Driver, Marion Cotillard (La Vie en Rose) and Simon Helberg (The Big Bang Theory, Florence Foster Jenkins) -- which opened at the Cannes Film Festival this month.
What comes through consistently in this informative film – which however reveals nothing of the Maels' private lives – is Sparks' tireless work ethic and humour.
Their song titles equal Frank Zappa's: Ugly Guys with Beautiful Girls, Sainthood is Not in Your Future, Lighten Up Morrissey, I Can't Believe You Would Fall for All the Crap in This Song . . .
Alex Kapranos of Franz Ferdinand says after they'd spoken of a collaboration the first song he received from wry Ron was Collaborations Don't Work.
.
The documentary The Sparks Brothers is screening in selected cinemas, the soundtrack to Annette is available on Spotify here
.