Graham Reid | | <1 min read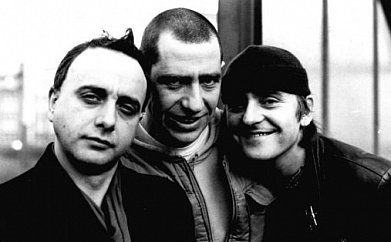 The Eighties were no more weird than any other decade, although if you look at what sat around this one-off hit single by a German group produced by Klaus Voorman, who may have played in the band, you'd be forgiven for thinking that . . .
Around this time Frank and Moon Unit Zappa had a hit with Valley Girls, millions were buying Jane Fonda workout videos, Nancy Reagan was telling people to "just say no", Michael Jackson's Thriller was everywhere and musical tastes ran from Laura Branigan to the Gap Band, Duran Duran to Soft Cell.
And Trio with this gimmicky hit, the full title of which was Da Da Da (I Don't Love You, You Don't Love Me, Aha Aha Aha).
As some have noted, this was Kraftwerk's minimalism reduced even further.
It was a hit all over the place – except in the US – and was widely covered, even by Elastica on their album The Menace.
As annoying as Hey Mickey and as unexpected as Valley Girls, it's hard to know just why this would have taken off as it did. And how this trio actually parlayed their success into a career of touring, albums, a movie . . .
But then again, the Eighties were a weird time, right?
The Flying Lizards had a lot to answer for.
.
For more one-off or unusual songs with an interesting backstory see From the Vaults.