Graham Reid | | <1 min read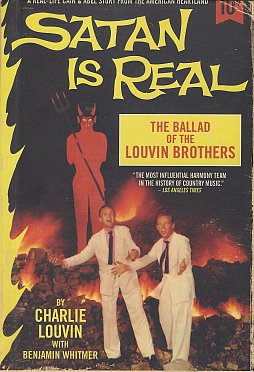 In his autobiography Satan is Real: The Ballad of the Louvin Brothers, Charlie Louvin – who died in 2011 at 83, shortly after its competition – explains this traditional murder ballad.
He said that he and his brother Ida (older, a violent alcoholic ladies man) had been performing this since they were kids on the farm in Alabama in the Thirties.
"In the old country it was called The Wexford Girl and I've heard it goes all the way back to Elizabethan times.
"It's an exceptionally morbid song, about a man who beats his girlfriend to death."
Of course the killer doesn't get away with it, but the reason for the sudden killing almost passes by in a single line.
"Go down, go down you Knoxville girl, with the dark and roving eyes . . . you can never be my bride."
As Charlie observes in his plain-spoken book, "she's been looking around at too many other men".
You'd like to think we live in better and more enlightened times but on any given day there's another Knoxville girl out there somewhere beaten to death by a lover, husband or partner.
Which may explain why such songs still have currency, even if they come from old time country artists.
.
For more on the Louvin Brothers at Elsewhere see here.
.
For more one-off or unusual songs with an interesting backstory see From the Vaults.