Graham Reid | | <1 min read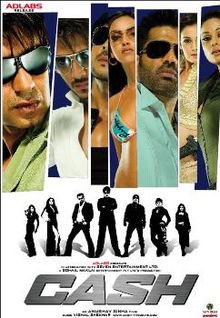 More scenes from the global village?
While walking through Kuala Lumpur's Little India I heard this track rocking out of the speakers in a small record shop. I was transfixed: urban, English language in place, Hindi in others, samples from car horns, block rockin' beats, rock guitars, hip-hop in the house . . .
As it turned out this was from the soundtrack to a Bollywood blockbuster Cash (a glamorous heist flick set in Cape Town) which looks pretty exciting, although the woman in my local Indian DVD store in Auckland has waved me away from it to the point of insisting I not rent it. (Weird?)
So I can't speak of the film but the soundtrack -- just seven songs, mostly by the hotter-than-hot Bollywood team of Vishal and Shekhar -- leaps out of the speakers and is an excellent example of post-modernism in popular music where every cultural source and style is worth much the same as any other.
And they are all tossed together in some Cusinart in the service of the art.
Enjoy -- at high volume.

For more oddities, one-offs or songs with an interesting backstory use the RSS feed for daily updates, and check the massive back-catalogue at From the Vaults.