Graham Reid | | <1 min read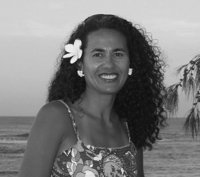 Every time I have played this track on radio it has had an immediate and favourable response: people want to know who the writer/reader is, and what else has she done.
Marsh has done a lot: she was the first person of Pacific descent to graduate with a PhD in English at the University of Auckland and is currently a lecturer/tutor in that department.
She is not only an accomplished poet but has done quite a bit of reading with music (here with Tim Page) and is compiling on an anthology of her work. She is also active in promoting Pasifika poetry and spoken word, and has recorded and made videos of her own readings.
She is of Samoan, Tuvaluan and European descent -- and is a poet with a commanding presence, either in person or recorded.
For more one-offs, oddities or songs with an interesting backstory see From the Vaults.