Graham Reid | | 1 min read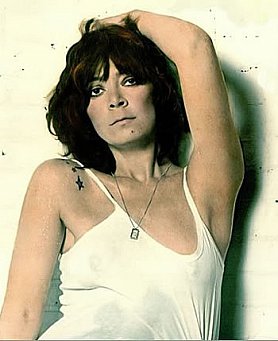 By the time New York singer Ravan got to her album And I Mean It, from which this track is taken, she'd already had a few careers: she'd been the singer in the Escorts in the early Sixties (the line-up included soon-to-be-producer Richard Perry); she was Goldie of Goldie and The Gingerbreads who scored a top 10 UK single with Can't You Hear My Heartbeat (produced by Alan Price of the Animals) then she fronted the horn-driven Ten Wheel Drive.
So her photo file has pictures of her with Mick Jagger and the Hollies, relaxing backstage with Jimi Hendrix, and sharing a bus with the Yardbirds while touring the UK.
Oh, and she not only produced her first solo album Urban Desire ('78, on which she sang a duet with Lou Reed) but albums by the Dead Boys and Ronnie Spector.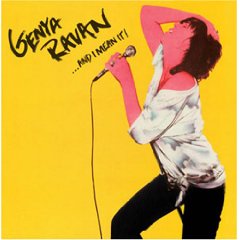 Ravan -- born Genyusha Zelkowitz -- could belt out hard edged soul, the blues and rock'n'roll. She was something of a one-woman girl group.
By the late Seventies however she was taking on darker, sexually stroppy music and brought a bratty post-punk attitude to her brand of rock which was steeped in tradition. Charles M Young in Rolling Stone reviewing Urban Desire noted she "sings blacker than any white female I can think of".
So on And I Mean It you got the spirit of Ronnie Spector on the big ballad Steve, but pure rock'n'roll on Pedal to the Metal. And the sex and stroppiness is there on I Won't Sleep on the Wet Spot No More.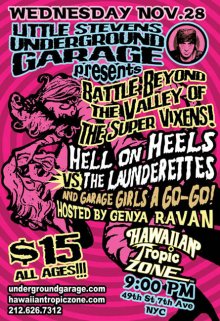 But for Junkman she gets into rock ballad mode with Ian Hunter of Mott the Hoople.
And the lady can sing.
She means it.
Looking back Genya Ravan was one of the better "street poets" at a time when the media was acclaiming Jim Carroll, Willy de Ville and of course the usual suspects (Lou and Patti).
These days she doesn't sing and produce so much, but has been a regular presenter of Steve Van Zandt's radio show Underground Garage.
At 81, Genya Ravan proves you are never to old to . . . if not rock'n'roll, then at least still love it.
For more one-offs, oddities or songs with an interesting backstory see From the Vaults.