Graham Reid | | 1 min read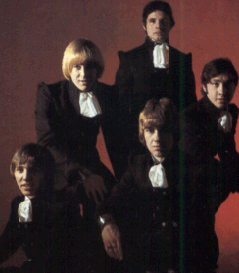 In 1980 EMI released an excellent double vinyl on the Joker imprint entitled The Easybeats: Absolute Anthology 1965-69.
It might well have been titled The Rise and Fall of a Pop Group because across 43 tracks in chronological order it traced Australia's Easybeats from their first tentative attempts at being the antipodean Beatles, through their classic singles and radio hits -- Friday on My Mind of late '66 going global -- and then on through their attempts at psychedelic music and pop-whimsy . . . and finally to the unravelling.
Theirs was a short but spectacular career, but it wasn't over when the band broke up because songwriters Harry Vanda and George Young went on to pen numerous hits for others, and enjoy success as Flash and the Pan. When Bowie (who covered Friday) gave his first press conference in Australia he immediately asked, "Where are Vanda and Young?"
Vanda-Young songs for the Easybeats had been covered by Los Bravos, the Shadows, Marmalade, Amen Corner, Gary Walker, Paul Revere and the Raiders . . .
The Easybeats story had fame (Beatlemania -- or Easyfever -- followed them in Australia); tragedy (Vanda's wife Pam committed suicide when she couldn't accompany the band to Britain in '66); triumph (Friday a number one in Australia, top 20 in the US, top 10 in Britain and their first UK appearance before an audience which included Mick Jagger, Eric Burdon and others) . . . then the decline (the inevitable drugs and debt).
While the Shel Talmy-produced Friday on my Mind was their biggest hit, it was anticipated by the stuttering and energetic single Sorry released just a month beforehand and included on the Friday EP.
The hammered out riff -- as distinctive as Satisfaction -- has a whiff of nascent hard rock about it.
Interesting then that Vanda and Young, as well as being succesful songwriters, got behind the desks and produced the first six albums for AC/DC -- a band which included George Young's younger brothers Angus and Malcolm . . .
For more one-offs, oddities or songs with an interesting backstory click the RSS feed to get the daily updates From the Vaults.