Graham Reid | | <1 min read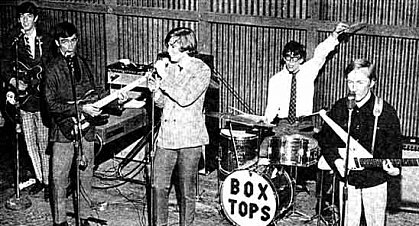 In later years Alex Chilton -- who died in March 2010 -- was mostly known for the legendary but short-lived Seventies power-pop band Big Star which was hugely influential across the generations and was paid tribute to by the Replacements in a song named after him.
But before the pop of Big Star, Chilton out of Memphis was the singer in the Box Tops which scored big with The Letter in '67 and Cry Like A Baby the following year. The band recorded at the famous American Sound Studio with the legendary songwriter-producer Dann Penn.
Although they were a pop-rock band, Chilton also brought a style which seemed to come straight from the gospel church and onto the grubby street. His pained and often heart-aching sound ripped raw and colourblind listeners could have been forgiven thinking he was black.
Written by Penn and Spooner Oldham, I Met Her in Church of '68 exemplifies the soul power, pure passion and genuine commitment that Chilton brought to the lyrics.
Alex Chilton was only 17 when he sang this.
For more one-off or unusual songs with an interesting backstory see From the Vaults.