Graham Reid | | 1 min read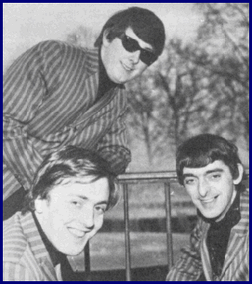 Britain's Ivy League were one of those bands which appeared in the wake of the Beat Boom and the Beatles and scored a couple of quick hits -- Funny How Love Can Be, then Tossing and Turning -- in '65.
And that would seem to be it because a couple of key members left and . . .
But there is more to their story that that.
The band were Ken Lewis, John Carter and Perry Ford, and they had made their name as session singers. (They backed the Who on I Can't Explain.) They had also penned Can't You Hear My Heartbeat which Herman's Hermits took to number one in the States and later wrote for Brenda Lee, Peter and Gordon (the archetypal English whimsy of Sunday for Tea), Mary Hopkins and others.
After Lewis and Carter quit in '66/'67, they wrote and recorded Let's Go to San Francisco as the Flower Pot Men but didn't want to go on the road again. So they created a touring band which, not so coincidentally, included Tony Burrows and Neil Landon who had been their replacements in The Ivy League. Lewis and Carter stayed at home, wrote more songs for them and acted as the band's managers.
(Incidentally, Carter also sang the lead vocal Rudy Vallee-style on the New Vaudeville Band's Winchester Cathedral and later sang in the studio for the bubblegum band Ohio Express . . . and the touring Flower Pot Men morphed into White Plains which had a hit with My Baby Loves Lovin' in '69.)
But back to the Ivy League and this song.
After Lewis and Carter quit and Burrows and Landon joined founder Perry, they recorded a couple more albums -- and on one of them was this rather interesting song.
Clearly influenced by Brian Wilson's Good Vibrations, this rather mundane lyric is elevated into airy pre-psychedelic pop by their harmonies. It was a route others would explore but shortly after it came out the Flower Pot men beckoned so . . .
A version of the Ivy League still exists (no original members) but in the revolving door of British pop their reputation is secure for those two original radio hits, the alarmingly adult Make Love (those are pretty much the lyrics) on the Sounds of the Ivy League album . . . and this charming wee song.
For more on-offs or songs with an interesting back-story see From the Vaults.