Graham Reid | | 1 min read

Back in the late Sixties/early Seventies, the American folk-rocker Phillips was known for two things: the astonishing length of his hair, and a soaring falsetto.
And although he was moderately successful at the time -- bigger than a cult, not a chart topper -- he barely gets a mention in rock or folk encyclopedias today.
That's surprising given he performed at the Isle of Wight festival, played sitar on a few Donovan songs (and appeared with him), and had the great Paul Buckmaster -- who worked on Nilsson albums, Elton's Tumbleweed Connection and others, Bowie and Cohen records and more recently Mika's Life in Cartoon Motion -- as a longtime arranger.
During the late Sixties he was almost itinerant as he worked across the US and Europe, but then he settled in beautiful Positano on the Amalfi Coast in Italy and it was there he created the Faces album of '72 (among others).
Described on the cover as "an anthology of music from 1969", it was a collection of recordings in various places and with many musicians, among them Steve Winwood, Glen Campbell and Caleb Quaye (on the 18 minute Parisien Flight II), and a full orchestra on L Ballade. For Chorale he multi-tracked his voice(s) over guitar and sitar.
The album offered an indication of his musical breadth from the slightly satirical Anello Where Are You (Anello and Davide had made hip Beatle boots etc in Swinging London) to the angry I Took A Walk ('through the fields of America"), and the somewhat poppy We which should have been a hit.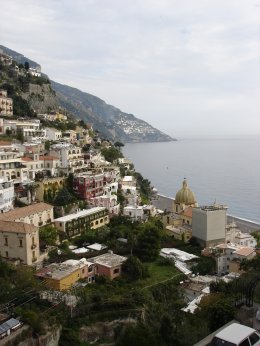 But it was when he let loose that extraordinary voice on music which, as with that of Tim Buckley, bridged folk and rock and jazz.
There's a case to be made that this should be an Essential Elsewhere album.
But until then . . .
Landscape is about the journey from Naples to his home in Positano (left) which was rather less touristy and populated in those days).
This is music which soars -- and reminds what a singular talent Shawn Phillips was.
He's still recording and playing.
And still has quite a mane.
For other one-off songs with a bit of history or an interesting back-story see From the Vaults.