Graham Reid | | 2 min read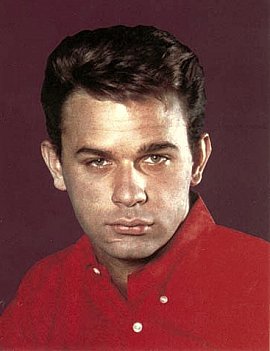 Few people can say they celebrated their 23rd birthday in quite the same way as Lou Christie, this single was number one the US -- and just starting to go global.
It was quite a comeback for Lugee Alfredo Giovanni Sacco from rural Glenwillard near Pittsburg: he'd had some skirmishes with the charts and been on Dick Clark's Caravan of Stars traveling revue (he was seated next to Diana Ross for 72 consecutive nights) but he'd been sidelined by a six month stint as an army reservist. And by that time the British Invasion was at its peak.
Few American teen idol acts like Christie -- his fellows in Bob Marcucci's management stable included Fabian and Frankie Avalon -- would survive the Invasion, but Lou was always kind of different. Maybe it was the tight trousers, maybe it was the falsetto.
Maybe it was the gypsy woman?
When Christie was 15 he and his sister Amy Sacco had formed a group called the Crewnecks. It was when they attended a bogus audition that Lou met Twyla Herbert who was twice his age, a former concert pianist and psychic. They fell in with each other (they shared a love of classical music, notably opera) and became songwriting partners.
Within a short period they spun out four pretty interesting hits including The Gypsy Cried which was released under the name "Lou Christie".
Given his voice, a lot of listeners thought he was a she. And pouty Lou looked like he might also liked to take a walk on the wild side.
A few other minor hits followed, then came the army stint in early '65, the signing to Marcucci's roster, and this Herbert-Christie penned Lightnin' Strikes which had as much ear-piercing anguish as anything by Johnny Ray and Gene Pitney combined.
And sex: "If she gives me a sign she wants to make time . . . I can't stop, I can't stop . ."
It's an interesting song beyond its very compelling vocals, as Christie noted: "The structure was unique then. There were four different parts to the song. We'd have an intro, then part of a verse, then another refrain, then the hook. The problem with that song was the glueing it together".

Things got a little unglued when some of his earlier material was rush released by a former label (thus confusing the market) but interestingly Lou also co-wrote Cryin' in the Streets. "Anyone who has ever been to 42nd Street in New York City would know that song attempts to reflect the jungle atmosphere. People there are pretty much like animals."
You do have to wonder if this Lou met the other Lou there at the time.
Christie's next hit however was the even more salaciously sexual Rhapsody in the Rain (banned for its sexual beat of windscreen wiper rhythms and lyrics about making out in the rain).
After that things slowly unwound for Christie on the hit-making front despite Jack Nitzsche producing If My Car Could Only Talk and the dramatic Shake Hands and Walk Away Crying.
Christie then label hopped (he was four years on Neil Bogart's Buddah), he enjoyed some success with I'm Gonna Make You Mine and headed to Europe to do cabaret. He lived in London in the early Seventies, married and had kids, battled an addiction, and went back to the States and quit music. He worked as truck driver and on an oil rig.
He returned to do some soundtrack work, started doing gigs with Lesley Gore . . .
But really not much beyond Lightnin' Strikes and Rhapsody in the Rain are worth serious attention.
But when that emotional drama and falsetto kick in, Lou Christie demands your most serious attention.
Look away of you can.
For more unusual one-off songs with an interesting back-story see From the Vaults.