Graham Reid | | <1 min read
Before they got into movies like Animal House and the Vacation series (with Chevy Chase), National Lampoon was a satirical magazine which also delivered a very funny sideline in records such as Lemmings (which skewered Woodstock).
One of their funniest albums, but hard to find unfortunately as it doesn't appear to be on CD reissue anywhere, was Goodbye Pop from 1975 which featured among other performers Christopher Guest (later of Spinal Tap/Best in Show/A Mighty Wind fame) on a series of songs which poked fun at Elton John, sexy kung-fu hustle soul, whiny Neil Young, country music (the great lyric "clap is the B side of love"), pretentious art rockers, reggae, radio shows which covered the History of Rock And Roll, sleazy managers and worse radio DJs etc.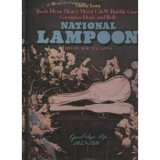 And anthemic feminism, as in the case of I'm A Woman -- sung by Gilda Radner with Guest on bass and Bill Murray as the singer's manager/husband.
This is lifted from vinyl so there will be surface noise and the odd pop, but the "song" is worth it.
For more on-offs or songs with an interesting back-story see From the Vaults.