Graham Reid | | <1 min read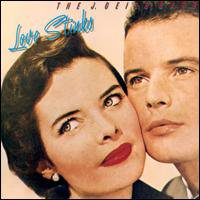 The J Geils Band out of Massachusetts is best known for their terrific single Angel in a Centrefold (aw, c'mon, it's great, in a rock'n'roll Benny Hill way . . . see clip below) and Freeze Frame -- and in this country probably not a lot else.
No one I know has ever had a J Geils Band album -- or has admitted to as much.
I do. Just the one.
It is Love Stinks (from the year before the Freeze Frame album which sprung those two hits) but I doubt I have ever played it more than twice -- except for this one track which my kids used to think hilarious. And it is kinda funny.
Aside from the Zappa-influence and the surreal narrative, what is interesting is how much time they must have spent on the excellent production for what is essentially a throwaway.
For more oddities, one-offs or songs with an interesting backstory use the RSS feed for daily updates, and check the massive back-catalogue at From the Vaults.