Graham Reid | | 1 min read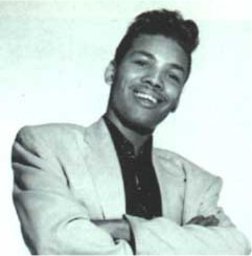 R'n'b/rock'n'roll singer-songwriter Williams didn't have a particularly long time in the spotlight -- he appeared in '57 and was effectively gone from the charts within three years -- but his small catalogue influenced a generation of British singers, among them John Lennon who was a huge fan.
In fact the Beatles covered three Williams' songs in their early career -- Bad Boy, Dizzy Miss Lizzie and Slow Down -- and when Lennon had to turn in his rock'n'roll album he covered Williams' Bony Moronie . . . and he did Dizzy Miss Lizzie again with the Plastic Ono Band.
The young Stones (and later solo McCartney) picked up on Williams' She Said Yeah, his Short Fat Fannie was a bandstand favourite of many in the British Beat Boom, and . . . and that was about Williams' hit catalogue right there.
Williams lived a fast and colourful life, taken at about the same speed as his frantic songs which were all over in well under three minutes.
He was from New Orleans, palled around with Little Richard, ran with shady underworld figures, had a habit, in the mid Sixties worked with the young Johnny Guitar Watson and Little Richard, produced a couple of Little Richard albums, did some acting work, tried his hand at disco, spun out of control on coke and pulled a gun on Little Richard over some dope deal that went wrong, and was found dead of gunshot wounds in 1980 at age 44.
He lived his life like some weird and shapeless novel -- and yet didn't die.
A guy called Martin Albritton still performs as Big Larry Williams and claims to be the singer. He performs those classic rock'n'roll songs and flatly refuses to quit appearing as Williams.
But there is only one Larry Williams, he's that bad little kid that moved into the neighbourhood, just sittin' round lookin' good, playing that rock'n'roll music all night . . .
Junior, behave yourself! You better slow down, you're movin' way too fast . . .
For more on-offs or songs with an interesting back-story see From the Vaults.