Graham Reid | | 1 min read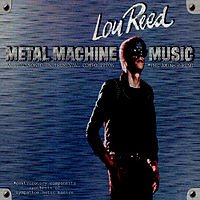 Metal Machine Music is the Lou Reed album that even many Lou fans haven't heard -- or did hear and said, "Never again".
Many who bought this double album at the time (which now fetches absurd prices on-line) returned it because not only does Reed not sing on it, but it has no songs (there are four pieces, each around 16 minutes long) and is a little over an hour of guitar feedback which he manipulate by speed changes and so on.
Word at the time was Reed had delivered his "contractual obligation album" to RCA to end his contract (although he remained on the label) but he has always denied that. In fact he has been consistent in pointing out that in the liner notes he made clear there were no vocals, that this was experimental music and so on.
Recorded at home and apparently influenced by the drone music of La Monte Young, it was widely panned at the time, made it into many lists of the worst records ever made -- and coincidentally appeared the same week as Brian Eno's Discreet Music. Eno saw the two entirely different albums as the roots of ambient music -- his quiet and Reed's loud.
Certainly it allowed later noisecore artists to point to a precedent, and Reed has always defended it with increasing success. In 2002 the German musician Ulrick Krieger transcribed Metal Machine Music (?) and used the score for a concert of it with classical instruments.
In recent years Reed, Krieger and Sarth Calhoun have performed as the Metal Machine Trio and they improvise sonic ambient noise. Not bad actually, except when it's boring.
Noise, avant-garde, a work of genius or Reed's on-going joke?
You be the judge.
For more on-offs or songs with an interesting back-story see From the Vaults