Graham Reid | | 1 min read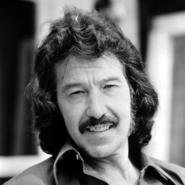 Norman Smith was an unlikely chart-topper when he knocked Elton John off the top of the US charts with this, his second single: he was 49 at the time and prior to that his career had been firmly on the other side of the microphone as an engineer and a producer.
But what a career he had enjoyed.
In his late 30s he'd been taken on as a sound engineer at EMI's studios in Abbey Road and was on hand to engineer all the Beatles songs up to Rubber Soul. He engineered 19 number one hits for the band before he was shifted on to being a producer.
Among his first jobs was producing the first Pink Floyd albums during the Syd Barrett years, then he produced the Pretty Things' SF Sorrow -- widely regarded as the first concept album in rock (it beat the Who's Tommy by some months).
As he approached his 50th birthday however, Smith decided to indulge himself and record something. He'd previously written a song Don't Let It Die which he hoped to pitch to John Lennon, but when fellow producer Mickie Most heard the demo he encouraged Smith to record it himself. He did and it went to number two on the British charts.
But it was Oh Babe of the following year which rocketed him (briefly) to real stardom and although an album followed and other singles he never captured the magic again.
No matter, he went back into production, continued to write, in 2004 released an album on which he re-recorded some of his older songs (this here being the later version of Oh Babe), was recorded in conversation about his Abbey Road years, and in 2007 -- the year before his death -- he release a limited edition autobiography entitled John Lennon Called Me Normal.
In many respects he was: Smith had been one of those jacket'n'tie people at Abbey Road in the early Sixties who, over time, loosened up, grew his hair and a moustache -- and enjoyed improbable hits.
He was also something of a prankster however and, remembering that Decca had turned down the Beatles, he took a tape of Please Please Me before it was released (and after the Beatles had already had a top 20 hit with Love Me Do), made up a name for the band and sent the tape along to Decca.
For the second time Decca turned down the Beatles.
"Just two words, 'No thanks'," he said later. "I don't think their executives ever listened to the radio. They didn't have a clue."
For more oddities, one-offs or songs with an interesting backstory use the RSS feed for daily updates, and check the massive back-catalogue at From the Vaults.