Graham Reid | | <1 min read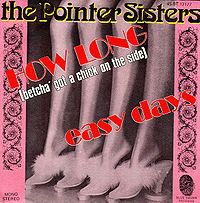 Long before they became a smooth soul-pop machine in the mid Eighties and beyond, the Pointer Sisters (then a quartet of June, Bonnie, Anita and Ruth), delivered some slashing r'n'b funk such as this self-penned (Anita and Bonnie, with producer David Rubinson) single which went to number one on the soul charts and 20 on the main Billboard charts.
A stunning all-in production of guitars, strings, layered vocals and funky bass and percussion, it was a very long way from what they later did in their career on Planet Records then RCA.
There are some interesting mixed moods and messages behind the machine-gun guitar stutters from Wah Wah Johnson and Chris Michie: the singer wants to walk away from the betraying lover and there is anger, but then it purrs with lasciviousness and ends with a pure orgasmic energy.
It is tension and release, then tension again.
The Pointer Sisters rarely matched the energy of this period when they blended tough r'n'b and funk, and this song is always worth hearing.
It was of course sampled (by Salt'n'Pepa) and covered (Queen Latifah and, somewhat improbably by the band lead by jazz drummer Buddy Rich) -- but this is the real oil.
For more oddities, one-offs or songs with a backstory see From the Vaults.