Graham Reid | | <1 min read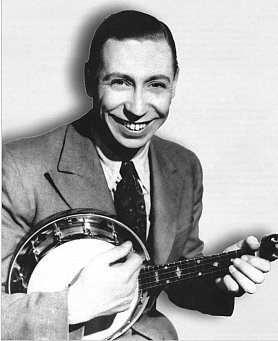 In his later years George Harrison developed an affection for the ukulele, and one of its greatest practitioners, English music hall comedian, singer and actor George Formby.
Right at the end of the Free As A Bird single Harrison threw in a nod to Formby, and specifically to this mildly naughty song which had them rolling in the aisles in the Thirties and Forties.
Formby -- from Lancashire -- may seem an odd influence on the Beatles (Lennon also a fan, McCartney more recently picking up ukulele), but consider the period: they grew up when Formby was still a hugely popular figure and his music was widely played on radio, and was sung in pubs and homes around the country.
Formby's humour was shot through with double entendres (some of his songs were banned by the BBC) and folksy homilies, and he moved into films, appeared at Royal Variety Performances, entertained the troops, skewered Hitler in song, and when he died in 1961 more than 100,000 mourners turned out.
Herman's Hermits had a minor hit with Leaning on a Lamp Post (see below).
Even today he is name-checked in popular culture -- although his music is rarely played anywhere.
So here is George Formby at his risque best.
For more oddities, one-offs or songs with a backstory see From the Vaults.