Graham Reid | | <1 min read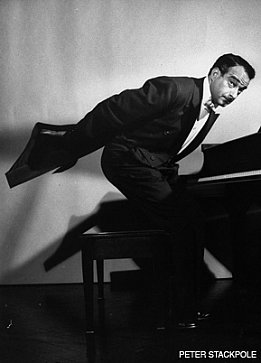 Denmark-born pianist Victor Borge was a child prodigy who could have had a distinguished career playing concert halls. Fortunately for us he chose another direction.
Born to Jewish parents in 1909, he studied and played the classics, but in his late teens began adding stand-up comedy to his repertoire. He married an American (Elsie Chilton) in 1933 and when the Nazis invaded Denmark they fled from Sweden where he was performing (and including anti-Nazi jokes) to eventuallly arrive in the States.
He couldn't speak any English on arrival (he was literally penniless also) but learned by watching movies and -- as Victor Borge, he'd been born Borge Rosenbaum -- started performing comedy and classics, and caught the attention of Bing Crosby and others. He made the move to television, did long-running theatre performances, made many albums and performed right up until his death at 91 in 2000.
Among his many famous pieces is Phonetic Punctuation which, even now, is guaranteeed to have the kids rolling with laughter and is one of those routines which, once you have heard it, remains embedded.
If you haven't heard it in a while, here it is for your enjoyment. It comes from the best-selling album Caught in the Act.
For more oddities, one-offs or songs with an interesting back story see From the Vaults.