Graham Reid | | 1 min read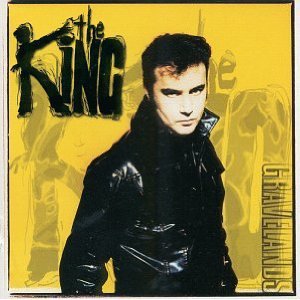 Although there aren't Elvis sighting in gas stations and supermarkets any more -- Presley would be in his late 70s -- there is still no shortage of lookalikes and impersonators around.
While there seems no great call for Kurt Cobain and Mama Cass impersonators, those who swish their hair back and sneer a little seem to be always out there.
One week I interviewed two of them and within days I had forgotten which was which, because -- well, they weren't themselves anyway.
One of the best, on record at least, Elvis impersonators was (possibly still is) an Irishman from Belfast, Jim Brown, who went under the moniker "The King".
The former Post Office worker ("the Emerald Elvis") with five childen recorded the album Gravelands in '98 and the conceit was kinda fun: he covered songs by also-dead rock legends such as Cobain of Nirvana, Ian Curtis (Joy Division), Tim Buckley, Marvin Gaye, John Lennon and others.
It was eerie and not overstated. The album really worked.
He went on to record Return to Splendor in 2000 (classic songs by the Stones, Doors, Led Zeppelin, the Beach Boys and others) and then an album of originals and co-writes Any Way You Want Me in '05.
Frankly, the way most people wanted Jim Brown was as Elvis -- and his covers on Gravelands might just have been his highpoint. Her versions of Joy Division's Love Will Tear Us Apart, Buckley's Song to the Siren and Nirvana's Come As You Are still stand.
The King may be gone, but long live "The King".
For more oddities, one-offs or songs with an interesting backstory use the RSS feed for daily updates, and check the massive back-catalogue at From the Vaults.