Graham Reid | | 1 min read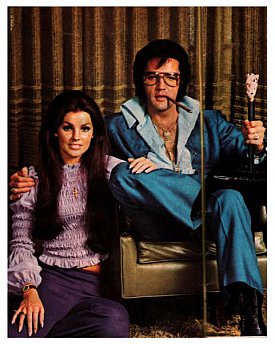 Unlike the Beatles -- especially John Lennon and often George Harrison -- we rarely think of the Rolling Stones writing autobiographical songs, or lyrics which have come from some deep emotional place in their lives.
And even less so with Elvis Presley who, after all, didn't write and would pick up anything from a Christmas carol to a raw blues and turn it into gold, or a very passable facsimile.
Yet as he went through his separation and eventual divorce from Priscilla, a few songs took on special resonance: Suspicious Minds by Johnny Christopher and Mark James became an important song for him about trust in a relationship as Priscilla was going out the door.
Then, knowing his marriage was over, he recorded Separate Ways, Kris Krisofferson's For the Good Times and, most notably, another Chrisopher-James composition, Always on My Mind.
It was a song filled with regret for lost opportunities, an apology for emotional absence, and a plea for understanding even though the singer knew she was gone. The chorus asks for one more chance, but . . .
Presley could pour emotion into even the weakest of lyrics, but you can't help think that at this time he was really hearing these words and understanding them.
The day before he had also cut Fool (see clip below): "Fool, you didn't have to hurt her; Fool, you didn't have to lose her; Fool, you only had to love her . . . but now her love has gone . . ."
Sometimes it wasn't that good to be the King.
For more oddities, one-offs or songs with an interesting backstory use the RSS feed for daily updates, and check the massive back-catalogue at From the Vaults.