Graham Reid | | <1 min read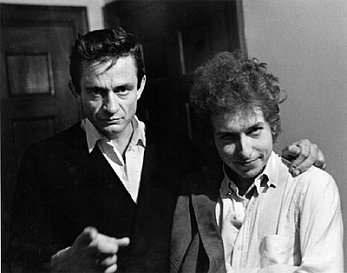 The friendship and mutual admiration in the late Sixties between Johnny Cash and Bob Dylan has been well documented: they did some sessions together in '69 (their duet on Girl From the North Country appeared on Dylan's Nashville Skyline), and Cash subsequently invited Dylan onto his television show as a guest.
But their friendship went back even further and Cash was an early supporter of Dylan's music. Cash had been enormously impressed by The Freewheelin' Bob Dylan of '63 (which included Girl From the North Country) and perhaps recognised in Dylan's outsider status something of his own position in country.
And like Dylan, Cash wasn't averse to borrowing someone else's tunes.
In the whole imitation/flattery discussion Cash's Understand Your Man would be called as evidence.
Recorded just prior to the '64 Newport Folk Festival where he and Dylan both performed, it is very clearly based on Dylan's Don't Think Twice It's Alright off Freewheelin'.
PS: There is the very stoned Lennon and Dylan in about '66 talking here about Johnny Cash . . . and all kinds of stoner nonsense.