Graham Reid | | 1 min read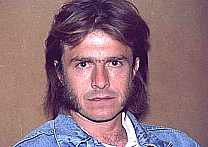 Alabama-born Eddie Hinton (1944-95) is hardly a household name but was one of the great Southern soul songwriters and sessionmen. As a Muscle Shoals musician he played guitar on scores of sessions (for everyone from Aretha Franklin to Boz Scaggs, Elvis to Solomon Burke) and was a prolific, if under-recorded, songwriter.
His most notable hit was Breakfast in Bed, a co-write with Donnie Fritts, which Dusty Springfield cut for her classic Dusty in Memphis album of '69.
But it was his own singing which had some referring to hiim as "the white Otis", a white man with a black voice and a soul soaked in the country, blues, gospel and r'n'b of his native South. He wasn't averse to a little ragged pop either.
Mojo magazine called his '86 Letters from Mississippi album "a kind of Dixie-fried Blood on the Tracks" -- which was pushing it a little. Dylan recorded nothing so danceable as Uncloudy Days or My Searching is Over, or as rockingly soul-soaked as I Will Always Love You.
Backed by the best, Hinton would pour his everything into his delivery and his voice -- sounding like he had gargled moonshine and razor blades -- would crack with emotion.
But his was promise mostly unfulfilled: he was chronic alcoholic and drug addict who struggled to keep sane --- and was dead of a heart attack, overweight and living at his mother's home, at age 51.
But on a blindfold test most would have Eddie Hinton pinned as a great, Sixties Stax-Volt singer. And that ain't no bad thing.
For more oddities, one-offs or songs with an interesting backstory use the RSS feed for daily updates, and check the massive back-catalogue at From the Vaults.