Graham Reid | | 1 min read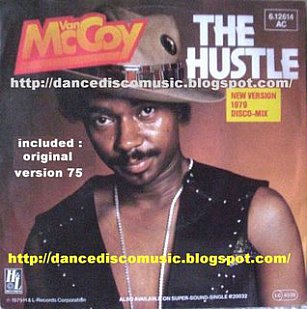 So how long does it take to write a song? James Taylor says he wrote Steamroller Blues in as long as it took to scribble the words down, but maybe that doesn't really count -- especially if you've heard Steamroller Blues.
If you look at the credits on some current r'n'b songs and see the artist's name alongside that of the four producers (and the lyrics are "oh baby, give it up baby") you might argue that if you have that many people iin a room it is going to take a lot longer than if just one person grabbed the thing by the neck.
According to Peter Shapiro's excellent Turn the Beat Around; The Secret History of Disco, this massive hit by Van McCoy was done in an hour. As Shapiro notes, "thanks to its accompanying dance craze, [this was] the record that truly catapulted disco from an underground phenomenon to worldwide furor. "
As Shapiro tells it, longtime soul and r'n'b producer McCoy was working late and his friend and business partner Charles Kipps Jnr headed off to check out the scene at the Adam's Apple nightclub in Manhattan. McCoy had been regularly hassled by the DJ there, David Todd, to come and look at this new dance craze but was too busy to go himself, so Kipps was dispatched.
Kipps was so excited by what he saw that he dragged two of the dancers back to the studio at midnight and they showed McCoy what they were doing. He loved it.
"It was something completely different from the you-do-your-thing-and-I-do-mine dances; it was people dancing together again."
He wrote The Hustle right then -- and the following day in an hour of studio down-time recorded it with seasoned jazz and studio players Steve Gadd, Rick Marotta, Gordon Edwards, Richard Tee, Eric Gale, a horn section and string players.
The song went global -- as did the dance, instructions here!-- and Shapiro notes it was probably "thanks to that infernal flute line boring into your skull".
It was "the kind of record that crawls under your skin, subliminally taking root to the point where you find yourself whistling it while masturbating".
Well, hmmm . . .
It was certainly massive, but for Van McCoy it was a great one-off.
He never again troubled the top 40.
(Note, the version posted is by a tribute band, the original is on the video clip)
For more one-off or unusual songs with an interesting backstory see From the Vaults.