Graham Reid | | <1 min read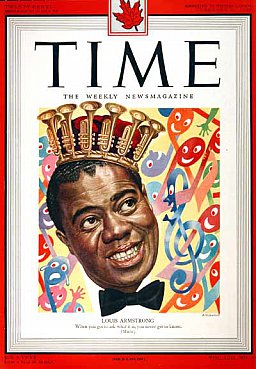 At the very end of his long career the great Louis Armstrong seemed rather detached and indifferent to the material he was playing. He'd scored huge and cross-generational hits with Hello Dolly and Wonderful World and seemed to be searching for direction. After all, he'd done it all.
You wonder who thought a country'n'western album was a good idea however -- but in '70 an album appeared under that title and featured Satchmo singing Running Bear, Wolverton Mountain and other country warhorses.
The album was recorded in Jack Clements' studio in Nashville with fine players such as pianist Larry Butler and Stu Basore on pedal steel -- but the liner notes also list Regent Sound in New York and the suggestion has always been that Armstrong simply recorded his vocal tracks in NYC over the Nashville backing tapes.
This rather unusual and certainly unintersting album was, unfortunately, one of the last times Louis Armstrong went into a recording studio and it seems sad and odd that a remarkable career which spanned the century should have come to this.
There is of course much better Armstrong out there in the world, but this is just strange and hence it being dragged From the Vaults.