Graham Reid | | <1 min read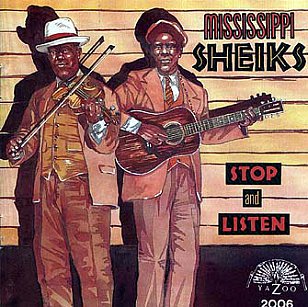 The blues is often blunt and to the point when it comes to sexual imagery, at other times it is coded -- although no one should be in any doubt that when Lonnie Johnson says he is the best jockey in town he isn't boasting about his horse riding skills.
This song by the Mississippi Sheiks -- Walter Vincson on guitar and vocals, Lonnie Chapman on violin and vocals -- manages to be subtle and graphic at the same time as it involves a double metaphor: it suggests both playing poker on the beds of neighbours, and sleeping around.
The Sheiks were adept at this kind of blues, they also recorded Driving That Thing the previous year in their first session under their name . . . and it wasn't really a hammer that an exhausted Uncle Bill died with in his hand.
For more one-offs, oddities or songs with an interesting backstory see From the Vaults.