Graham Reid | | <1 min read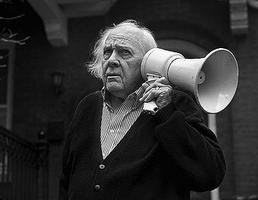 In the mid Seventies a friend of mine living in West Virginia started sending me cassettes of a programme that beamed out late at night on Public Radio. It was called Now Nordine and all I knew at the time was that it was "made possible by a grant from . . . anonymous".
They were weird half-trips into strange references (snippets from Leonard da Vinci's journals about dissecting cadavers, a list of Winston Churchill's collection of hats) and odd sounds. A string quartet or a fragment of the Beatles might appear, there were electronic sounds and strange voices in the background, some terrible jokes and shaggy dog narratives, someone up against the wall before a firing squad . . .
This was headphones time, and smoke-'em-if-you-got-'em stuff.
Much later I learned the bent genius behind this was Ken Nordine who created Word Jazz albums in the Fifties, which I sought out and discovered were equally funny, chilly, slightly paranoid and utterly compelling listening. You just always wanted to know where he was going with whatever train of thought (or stream of consciousness) he had.
This is just the first 10 minutes of one of his half-hour Now Nordine programmes. If you want to hear more of such things -- and I don't doubt you will if you like being confused -- then have a look here for his podcasts etc.
Ken Nordine is 93.
For more one-offs, oddities or songs with an interesting backstory see From the Vaults.