Graham Reid | | <1 min read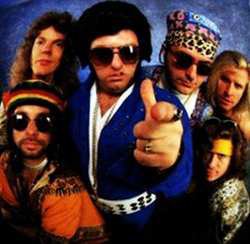 Christmas is upon us.
And in the spirit of the day here is one of the funniest bands ever.
Whoever thought pulling together reggae rhythms and Led Zeppelin riffery was an odd fish . . . but then they went one step beyond and fronted the band with an Elvis impersonator.
This was classic rock-comedy . . . and their shows were hilarious.
For this B-side however they went even beyond those realms of the absurd and covered the old standard All I Want For Christmas from the Forties -- inna reggae/LedZepp/Elvis style.
A Christmas song to keep you sane and smiling after someone in a mall has tried to sell you a bargain or a must-have.
It's Christmas . . . enjoy this because it's just dumb fun.
For more one-offs, oddities or songs with an interesting backstory see From the Vaults.