Graham Reid | | <1 min read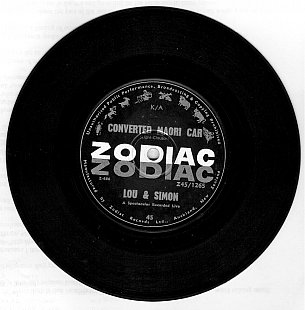 Lou and Simon (Lou Clauson and Simon Meihana) were one of the most popular and entertaining groups of the early Sixties. Like the Flight of the Conchords they were a kind of folk-comedy duo and very adept at parodies.
The other side of this single is a medley which pokes fun at Les Andrews' then-current song Click Go the Tollgates (itself a knock-off of Click Goes the Shears), Jerry Lewis, country singer Rusty Greaves and off-key singer Mrs Mills.
Of course some of their humour sounds slightly corny today and other parts might make some very comfortable (references to Horis, aka Maori). The audience at the time however -- Maori and Pakeha -- was in fits.
This song takes a poke at both Maori and Pakeha equally and although dated you can't help but smile.
For more one-offs, oddities or songs with an interesting backstory see From the Vaults.