Graham Reid | | 1 min read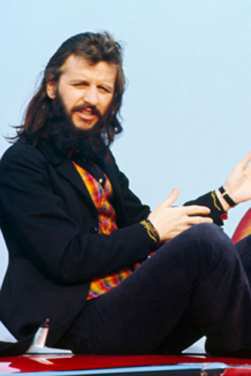 It was one of the great ironies that after the Beatles broke up the solo careers of the songwriters Lennon and McCartney languished for a while, and that George Harrison unleashed the phenomenally successful All Things Must Pass triple album (with the chart-topper My Sweet Lord)
But the most succesful solo Beatle was -- and here's the real irony -- the drummer who wasn't much cop as a singer, could barely play piano and had only written a couple of songs, which he'd had help with.
In the first few years after the Beatles broke up, Ringo Starr worried the charts more than all the others. He had a string of successful singles: It Don't Come Easy, Back Off Boogaloo, Photograph, Your Sixteen, Oh My My, the No No Song . . .
On the album front he started his solo career with Sentimental Journey (covers of songs he'd heard as a kid, it went top 10 in the UK), the country album Beaucoups of Blues recorded in Nashville (no chart action but critically approved of) then Ringo in '73 which also went top 10 in Britain.
After '75 there were diminishing returns and increasingly his solo albums were released to absolute indifference . . . but for a while there the least promising solo Beatle had enjoyed quite some chart action. And he made movies.
He also wrote a few songs (imagine his delight when the self-penned It Don't Come Easy went top five in the UK) and among them is this one, the flip side of It Don't Come Easy and an autobiographical lament for the situation between the former Beatles.
The estranged McCartney is living on the farm ("when he comes to town I wonder if he'll play with me"), Lennon is lying in bed with Yoko ("when he comes to town I know he's gonna play with me") and the long legged guitar picker is Harrison ("he's always in town playing for you with me").
Produced by Harrison (who also plays on it), Early 1970 pretty much summed up the state of things.
In the final verse Starr amusingly outlines his own musical limitations ("I play the piano if it's in C") . . . then concludes "when I go to town I wanna see all three".
Well, that didn't happen.
Sort of a sad song in way, you kinda feel for lovable, harmless, peace-maker Ringo.
But then again he was cracking hits while the others weren't, so . . .
For more one-offs, oddities or songs with an interesting backstory see From the Vaults.