Graham Reid | | 1 min read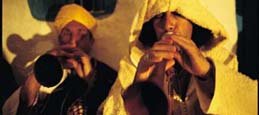 For reasons which were never clear or explained, in 1989 the Rolling Stones included this interesting piece of rock exotica on their Steel Wheels album, which was otherwise business as usual in the riffery stakes (the most memorable track which appeared in subsequent concerts was Mixed Emotions).
The album wasn't too bad at all actually (a considerable improvement over its predecessor Dirty Work) and was the last that bassist Bill Wyman would be on. He quit three years later -- which just shows you how long between albums they were taking.
Still, there had been internal divisions, and they were embarking on those record-breaking stadium tours so . . .
But Continental Drift was an interesting oddity and you had to wonder the motivation behind it: Jagger has never seemed a man prone to sentiment, but it was 20 years since Brian Jones had traipsed off to North Africa to record the Master Musicians of Jajouka, a group of village musicians whose art was handed down generation-by-generation.
And for the Stones -- Jagger and Richards were patching up a severe falling out which had lasted years -- to use Jajouka musicians for this track seemed . . . .
What? An acknowledgement of shared history and the tragedy surrounding Jones? Maybe just a digression? A compromise on Jagger's part to Richards who was vaguely interested in this sound?
However you cut it, Continental Drift stands as an unusual but rewarding piece in the Rolling Stones' long catalogue which by this time (and subsequently) had been reduced to guitar riffs, nods to reggae and New York dance, looks back to old soul and borrowing liberally from their own archetypes.
An odd but interesting one, and a sound they had never touched previously, or since.
For more one-offs, oddities or songs with an interesting backstory see From the Vaults.