Graham Reid | | 1 min read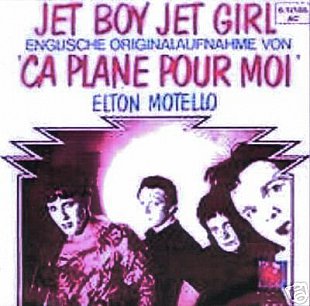 Most people have heard Belgian faux-punk Plastic Bertrand's one-off single Ca Plane pour moi of '77 (see clip). Fewer will have heard this bastard half-sister version by the UK rock'n'roll punk band Elton Motello (also the adopted name of singer Alan Ward) out of South London around the same period.
But the backstory is a little confusing.
Ca plane pour moi was actually recorded and sung by Lou Deprijck (as Plastic Bertrand) but while Motello/Ward was on tour in Belgium with his previous band Bastard he recorded his version of the song (with lyrics which could never get radio play, as you may hear) with some session musicians -- the same as on the Plastic Bertrand/Deprijck song.
The English-language single did nothing -- and Bastard broke up with guitarist Brian James going back to the UK to form the Damned.
But Motello formed the band Elton Motello -- with a fluid group of British players bobbing around in Germany and Holland -- and finally firmed a line-up. Back in Britain he included the Jet Boy Jet Girl song on their debut album Victim of Time.
At the time many took the band name to be a joke (a play on Elvis Costello) but the few who heard Jet Boy Jet Girl concluded later that Plastic Bertrand had ripped it off. Quite the opposite.
Curiously enough, despite their ragged debut album, Elton Motello made a second (Pop Art) but then split.
A footnote in pop history, but a song courageous for its provocative lyric.
For more one-offs, oddities or songs with an interesting backstory see From the Vaults.
Following the comment below I asked the writer for confirmation as to why he was so sure. He said he had been in touch with "Elton Motello" some years back (1999 it seemed) to get some clarity on the Elton/Bertrand thing. He sent me a copy of an e-mail from Elton/Alan.
It reads: "YES I AM ELTON MOTELLO, NOT PLASTIC BERTRAND!!!!!! HE USED SOME OF OUR BACKINGS FOR HIS FIRST ALBUM AS MIKE BUTCHER AND I WERE WORKING ON TRACKS FOR OUR ALBUM AND THE LOCAL MUSICIANS WERE NOT VERY AUTHENTIC.......!!!!! I ORIGINALLY CAME TO BELGIUM TO WORK AS A RECORDING ENGINEER IN A STUDIO CALLED ' MORGAN ' STUDIOS A MAJOR STUDIO IN LONDON WHO DECIDED TO OPEN A EUROPEAN STUDIO IN BELGIUM. I CAME OVER WITH MY ORIGINAL BAND " BASTARD " WITH THE LINEUP NOBBY GOFF--DRUMS DES --BASS BRIAN JAMES-- GUITAR ALAN WARD ---VOCALS. BRIAN WENT BACK TO ENGLAND AFTER 9 MONTHS TO FORM "THE DAMMED" WHICH WAS A COPY OF WHAT BASTARD WAS DOING BEFORE WITH NEW SONGS. MIKE BUTCHER CAME IN TO REPLACE BRIAN ...AND WE BECAME ELTON MOTELLO....... THE BAND WAS A BIT LOOSE..WITH NOBBY GOFF ON DRUMS MOSTLY BUT MY FRIEND "TWINK" EX PINK FAIRIES PLAYED DRUMS FOR A WHILE... HOPE THIS CLEARS UP A FEW POINTS AND MISUNDERSTANDINGS."
ARE WE NOT ALL VICTIMS OF TIME!!!!!!!