Graham Reid | | 1 min read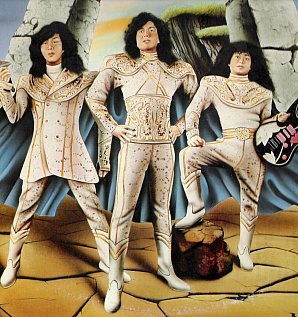 Does anyone buy CDs for their covers? Hmm.
I've certainly bought more than a few records (more than a few score at a guess) for the cover art, whether it be funny, bizarre or just plain cool. The reward is that when you play the albums you always find one thing which has been worth it (because, let's face it, you never pay more than $10 for these things found in dump bins).
I can't remember what I paid for the Blue Jeans album which I picked up in Hong Kong in the late Eighties on the strength of this magnificently camp cover.
But imagine my delight when, among its synth-pop with hard rock gestures, I discovered this (rather horrible) version of Marmalade's late Sixties hit Reflections of My Life (see clip).
Marmalade out of Scotland (originally the Gaylords, they changed their name just in time) had a number one hit with their cover of the Beatles' Ob-La-Di Ob-La-Da -- but it was this original which really coined it in: it sold over two million for its nostalgic and wistful quality -- and its backwards guitar solo.
But that was it for Marmalade who suffered line-up changes but limped on in some version or other to this very day.
Maybe they should play in Hong Kong where Blue Jeans -- part of an underground trend of rock bands in the Eighties -- prepared the ground for a Marmalade revival.
They'd just need a new set of clothes, like those worn by Blue Jeans perhaps?
For more one-offs, oddities or songs with an interesting backstory see From the Vaults.