Graham Reid | | 1 min read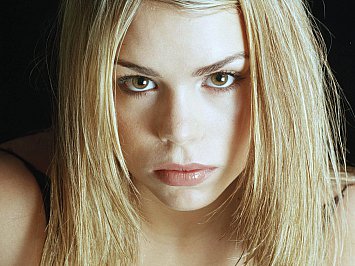 That the innocent wee Billie Piper -- 16 when she did a promo tour in New Zealand on the back of her debut album (see here) -- should later go slightly off the rails and start behaving in an "adult" way should have come as no surprise.
Her short-lived marriage to UK DJ Chris Morris in 2001 -- she 19, he 16 years her senior -- was just the beginning, after that there were the seductive photos, a part in Doctor Who and then Secret Diary of a Call Girl.
But when she was an "innocent" kid on the back of songs like Girlfriend ("I pictured us alone and you're kissing me in way I can't tell"), Love Groove ("baby sacrifice your stress then I'll help you meet your best, trust it baby nice and slow, trust me baby you're to know") and other such songs you kinda guessed that most of this stuff was going past her 13 year old audience.
What they thought of You've Got It ("don't stop, let's get it on, baby I want you all night long . . . you've got what I want, you've got what I need, one touch from you brings me to my knees") is anyone's guess. But parents bought them the album, when they probaby wouldn't have countenanced that filthy Prince fellow.
Of course Billie didn't write this stuff (she gets a co-credit on Love Groove however) and most of the songs on her Honey to the B debut come from Wendy Page and Jim Marr who were in the little known late Eighties UK pop-rock act Skin Games. Page sang on A Guy Called Gerald's Essence album and the pair have more recently written for popette Hilary Duff.
But it was Billie who gave them their start as songwriters -- and they gave her lyrics which would have that filthy Prince fellow wondering, "Why didn't I write that?"
Honey to the Bee just drips sensuality, and not even the London Community Gospel Choir can disguise it.
For more on another young female pop singer who grew up fast go here for Tiffany.
For more one-off or unusual songs with an interesting backstory see From the Vaults.