Graham Reid | | <1 min read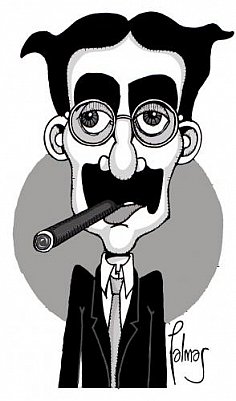 The great Groucho has been so often copied (Alan Alda, Welcome Back Kotter etc) and parodied down the decades we forget how irreverent he was in his day. By the time of this recording however he was an old man and just five years away from his death at 86.
Yet remarkably he undertook this stand-up show at Carnegie Hall and other venues where he told anecdotes (TS Eliot, Laurence Olivier and many others namechecked along the way) and was, at the time, palling around with the likes of Alice Cooper and Elton John.
He was heretical and funny to the end, and this segement is lifted from the double album An Evening With Groucho which was recorded at those shows.
It is typical -- and in the notes on the back cover Woody Allen says Groucho "is simply unique in the same way that Picasso and Stravinsky are, and I believe his outrageous unsentimental disregard for order will be equally as funny a thousand years from now".
It's certainly still funny now. It's all in the way he tells 'em.
For more one-off or unusual songs with an interesting backstory see From the Vaults.