Graham Reid | | 1 min read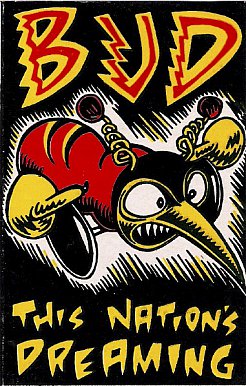 It was a good idea at the time which turned into an even better one: follow the story of band playing its first public gig from their rehearsal room to that moment under the lights . . . or in this case on the grubby "stage" at the Rising Sun Hotel in Auckland.
And by sheer chance -- and I cannot remember who suggested This Nation's Dreaming -- the people we picked were interesting of themselves: drummer Richard Barr was excellent and a librarian by day; Phil Smith on bass was a television journalist (he subsequently went on to great things) and had bought his instrument with his Visa card; singer/guitarist Peter Young worked at Rank Xerok and had the business smarts so jacked up the huge rehearsal room in downtown Auckland and the Rising Sun gig; and singer/guitarist Andy Hay, at 25 and the oldest, had coxed the New Zealand rowing eight at Edinburgh and Los Angeles, was a schoolfriend of Phil's and at the time had a lawnmowing contract.
They also wrote great punk-pop rock songs like Gasoline ("go and get the gasoline, we're gonna decorate the sky, we're gonna give that car a real goodbye") and More Wild Stories ("You are the greatest girl, and I want to be with you . . . . some of the time").
Those songs and others turned up later on their self-produced tape Bud (cover by Anthony Ellison) along with Room Full of Clocks which had been recorded at the Rising Sun.
It was a thrilling gig (the Plague who followed them drew their own skinhead crowd along with This Nation's Dreaming's quieter and more physically slight friends) and the band played . . . well . . .
Yes, they missed a few notes and fluffed a few intros and it didn't start well -- but by the halfway point they were onto it and pulled dancers to floor. I loved it, the band had a great night, their friends were pleased, we got a good cover story, the tape turned up later and I have kept it visible from my desk ever since.
The band made $55 all up.
They broke up not long after.
For more one-off or unusual songs with an interesting backstory see From the Vaults.