Graham Reid | | <1 min read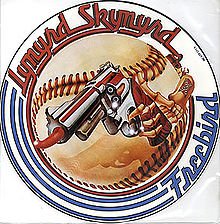 It's a joke that never ages, at a rock concert someone yells out "Free Bird". It's such a standard that the American writer Mitch Myers entitled his collection of rock anecdotes and fiction The Boy Who Cried Free Bird. Whoever that guy is, he's as notorious as the one who shouted "Judas" at Dylan.
The joke -- for those who have never heard Lynyrd Skynyrd's Free Bird from '73 -- is that the song seems interminable (it is actually 9.06 seconds on their Pronounced album) and contains marathon guitar parts by Gary Rossington on slide and then Allen Collins in the second half.
The song itself has a number of interesting features: Al Kooper played organ on it in the studio (as Roosevelt Gook); Collins had the music for six months before Ronnie Van Zandt wrote the lyrics; the first words came from what Collins' girlfriend said to him at a high school dance; and the original didn't have the midpoint tempo change which became its distinctive feature.
Over the years the song has appeared in extended live versions (of course) but here is their first demo, recorded at Quinvy Studios in Sheffield, Alabama in October 1970.
Curiously enough it doesn't sound half as good as the more famous long version -- and it is only half the length.
For more one-off or unusual songs with an interesting backstory see From the Vaults.