Graham Reid | | 1 min read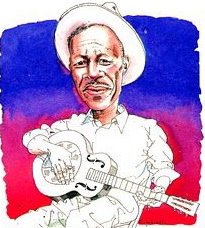 By 1964 when the British blues explosion was starting to take off, the great and tetchy Son House was living in retirement and spent most of days drinking. He hadn't played much since his friend Willie Brown had died more than a decade previous.
He'd preached some but mostly got drunk, he hadn't played guitar in five years.
But when his sessions from some 20 years previous were reissued and blues enthusiasts in Britain, seeking out anything from the old Delta bluesmen, heard him as one of the authentic voices they were looking for -- alongside Sleepy John Estes, Bukka White, Mississippi John Hurt and others.
Son House -- born Eddie House somewhere close to the birth of the 20th century -- enjoyed a sudden second career and his new manager Dick Waterman found a doctor who could prescribe something to control the senile tremour in his hands so he could play again. He recorded an album for Columbia, played the Newport Folk Festival and Carnegie Hall, and in '66 embarked on a British tour.
His musical life began again, and to greater acclaim than he had ever experienced.
In 1970 he played London's 100 Club and an album of Delta blues and spirituals was recorded. It included his famous Death Letter Blues (later covered by the White Stripes) a testifying John the Revelator (covered by Gillian Welch), and some monologues. They were his last great recordings.
John the Revelator
After this Son House slowly slipped away. He continued to play but became increasingly senile and befuddled, often forgetting songs on stage. In '76 he was taken into the care of relatives.
He lived another 12 years.
It had been some life, from preaching as a teenager to prison in Parchman Farm (murder) and then the life of an itinerant bluesman, marrying as he went (he was married at least five times). But mostly he was in the wilderness.
However there was no denying that his was an authentic voice of the Delta blues.
For more one-off, oddities or songs with an interesting backstory check the daily postings at From the Vaults. And for more blues go here.